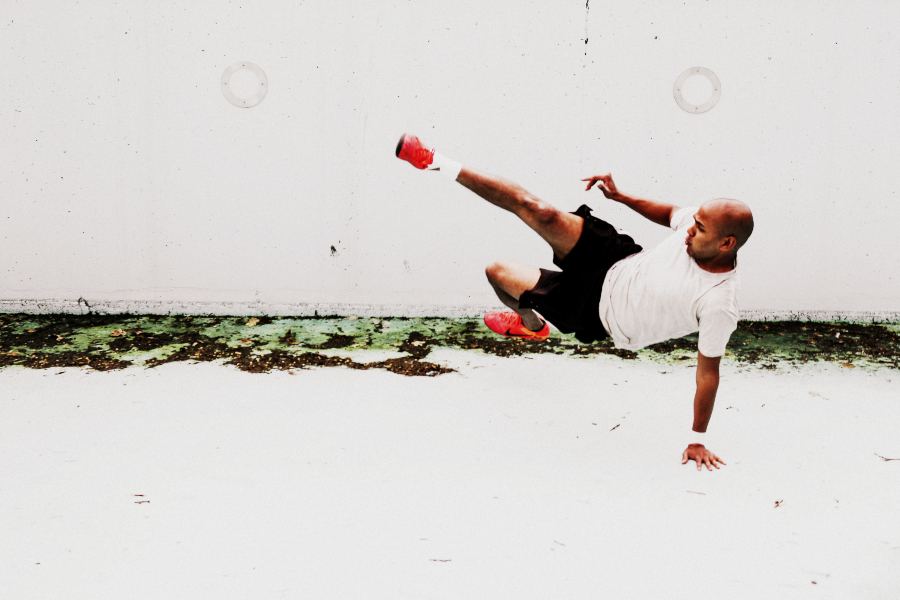 © Presentation History
For those who thought that sports and the arts were two separate worlds: think again. Australian theatre-maker Ahilan Ratnamohan grew up with a passion for both. Even professionally he wandered between football clubs and theatre companies in several continents. Until he was able to combine both fascinations under the auspices of the Australian theatre company Urban Theatre Projects in the production 'The Football Diaries'. With a ball as the central tool for physical theatre, he went on a search for the parallels between sports strategy and choreography. In his first creation 'Michael Essien I want to play as you…' (2013), he continued this research with a group of 6 nigerian footballers who unleash a salvo of stories with the physical agility of athletes. And in 'SDS 1', a solo without text, Ahil further abstracted the movement idiom of football into an autonomous choreography which navigates between the recognisable and the displaced.
After a series of residencies and presentations from at various venues including Perth Institute for Contemporary Arts in Australia, the Tanzhaus in Zürich and Cultural Centre of Berchem (Antwerp), Ahil is currently creating 'Drill', a new group piece that draws its inspiration from the training sequences from various sports. Athletic movement will be developed into choreographical patterns that reflect upon the masculine characteristics of sport. In wpZimmer Ahilan develops a autonomous segment of this creation under the title 'A Football Waltz', in collaboration with sprinter/b-boy/dancer Imanuel Dado.